Novelty: trends of design of nails
Published: 5.12.2018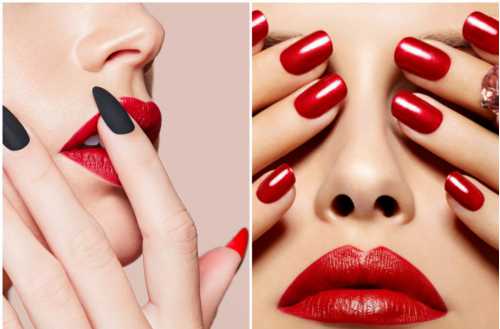 Manicure is an accent in an image of each woman and also reflection of her character. In this case the large role is played by taste and mood, but the main thing in nail design - to watch trends and know that today it is relevant and that is not present. Your marigold can play a dirty trick with you easily.
of Tsvetapantone was defined in the main color of 2018 by violet. Therefore all its shades - from gentle lavender to ultra-violet - are relevant in nail design. Pay attention to deep shades red, claret, brown and nyudovy. And one more trend which was supported practically by all stylists - lack of any covering or transparent varnish. It touches short nails.
Forman the majority of displays of model were with the short nails or with an almond-shaped form of average length. Complete antithesis to last trends. Such nails look is womanly and is elegant. They reflect the current trend of a healthy lifestyle and naturalness.
Long nails of sharp or square shape got out of fashion. And also their modified alternative which became popular thanks to Instagram - "ballerina". Especially not in fashion such nails covered with matt lacquer or it is even worse - with transparent varnish, and even without it. According to men, such nails remind the murder tool. Too it is time to forget about the long increased nails.
Excessive neyl-arts emergence of neyl-bars at every turn and various the technician of drawing on nails, between the woman began fight for the most original and unusual drawings. On one nail an inscription, on another a flower, on the third a leopard print or закат… In the 2018th all stylists advise to refuse this mad love to arts on nails. The it is less - the better.
Poloskiseychas it is not fashionable to do difficult drawings any more, but in the 2018th various strips are very popular. They can be brilliant, contrast colors, create different forms. Generally, create that you want. Also drawings which imitate various stones continue to be relevant: marble, quartz and others.
As you see, this year nails can even be not painted, the main thing - to support their well-groomed look. Remember: manicure has to supplement your image, but not to be its main attribute.
Lunkilunki - the real hit of 2016-2017. However and their time passed, they became an anti-trend. The world of fashion that something in it was late for a long time is too prompt.
Strazyseychas in a trend all brilliant, but only not rhinestones on nails, especially long. The similar glamour strongly reduces the price of any image and in most cases looks ridiculously. For example, when madam with such manicure goes by the trolleybus or chooses potato in the market.
The editorial office "So Simply!" will tell you what manicure got out of fashion for a long time and lost the relevance And, of course, about the main trends.
In 2018 in manicure, as well as in a make-up, 2 extremes: either well-groomed naturalness, or brightness. But do not confuse with a pestrost and vulgarity.
Shining metalliksmet choose varnishes with metal gloss. Now it is very fashionable. Only it is better not to supplement them with various drawings and a decor, such varnishes in itself look unusually and interestingly.
Nails of Barbie and poisonous ottenkiv gentle pink color are not present anything bad. But, when the woman wears clothes of mainly black color, and paints nails in pink, it looks it is strange and old-fashioned. The same treats different yellow, lime and orange nails. In the 2007th such colors were fashionable. But that time passed long ago.
The return frenchtaky the type of a covering will serve as an excellent alternative to the bothered holes. For registration it is possible to use any colors.
Trends in manicure
Tell us in comments what manicure you prefer to do. And also do not forget to share anti-trends and trends in nail design with the girlfriends in social networks!